Excited to share this legal-writing Venn as folks and groups mark #DataPrivacy day.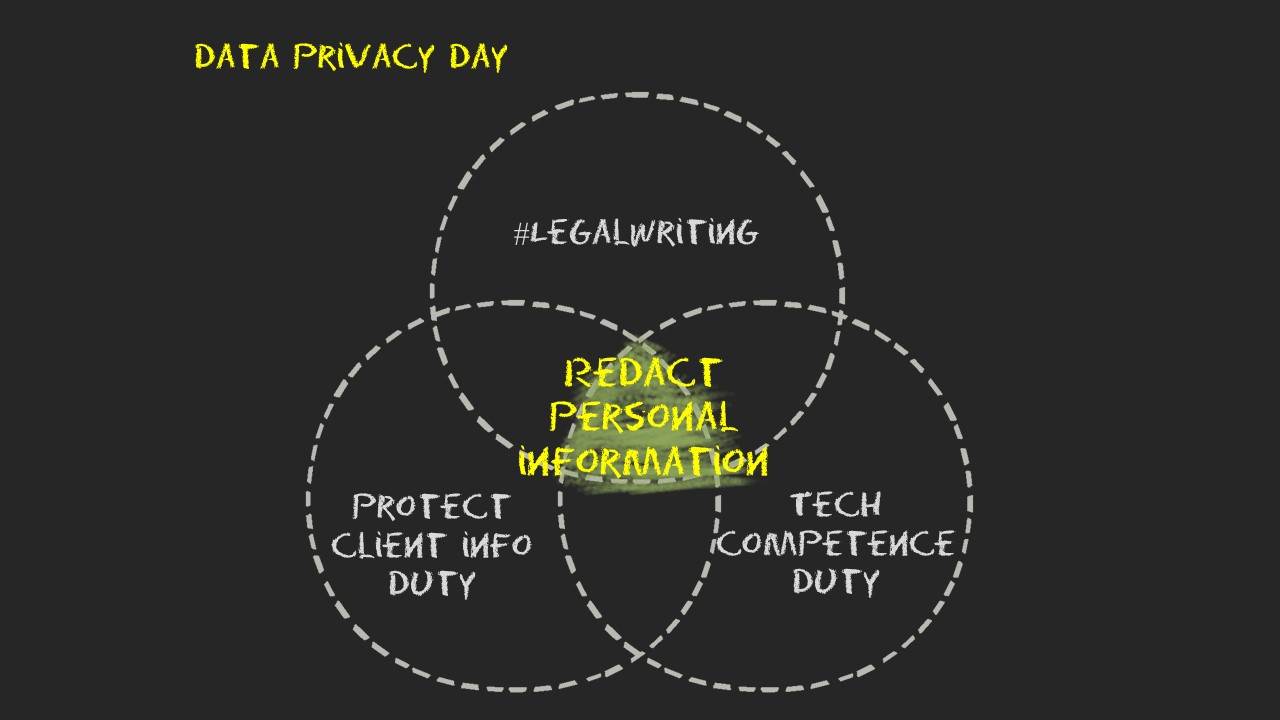 This post covers first principles, context, and tips on how we can continue to recognize and mitigate identity theft risks in that part of our legal writing that makes its way into public court filings.
[Spoiler: Another Michigan privacy court rule kicks in on July 1!]
---
Where are the common legal-writing, data-privacy risks?
They are often in your filing's supporting attachments, exhibits, or appendices.
Less frequent but still possible: Images inserted into the complaint, pleading, or supporting brief.
---
What types of personal information do attorneys and self-represented litigants (SRLs) too often leave unredacted in their attached, public materials?
(It happens. More regularly than we realize.) Date of birth. Social security number. Driver's license or state identification numbers. Passport number. Financial account number.
---
It's critical to remember that identity theft victimizes people, businesses and collective taxpayers every day. The numbers grow each year.
Here's an informative piece profiling stories of several victims http://bit.ly/2YeyB20
Here's a 2021 story about tax identity theft http://bit.ly/3sWIq2r
The Consumer Sentinel Network Data Book is published each year outlining current and earlier year trends. (The 2020 data is still being compiled.)
This video is just a small glimpse.
---
What do identity thieves look for?
The list will sound familiar: Date of birth. Social security number. Driver's license or state identification numbers. Passport number. Financial account numbers. Government benefits card numbers.
---
How do identity thieves use this personal information?
The Identity Theft Resource Center has compiled a long list. Some ways include:
---
What does this have to do with court filings?
So much! Redaction scrutiny is needed for common items "tacked on by parties" in separate public attachments, exhibits, and appendixes. I often see unprotected personal information listed in publicly attached:
Billing statements. Transcripts. Felony complaint and information. Bindovers. Probation orders. Judgments of sentence. Military enlistment contract. Trial court register of actions. Request for court-appointed counsel. Juvenile delinquency petitions. Petitions for guardianship of a minor. Money orders and checks. Pretrial release orders. Police, fire, and EMS reports. Traffic crash reports (UD-10). Applications for Personal Injury Protection benefits. And medical records, including reports from the Center for Forensic Psychiatry.
---
Requirements; duty to review and redact
Many requirements make the Michigan lawyer responsible for reviewing and redacting their public court file attachments, exhibits, and appendices. (And cross-reviewing the materials filed by other parties.)
---
How are .pdf files redacted?
Adobe's online tutorial explains how easy it is to redact and permanently remove sensitive content using its Redact tool within Adobe Acrobat Pro DC.
Acrobat Pro DC is not free but it's affordable and so worth licensing for all of those on your team who work with digital files. [It does a lot more than just redaction!]
Adobe offers a free 7-day trial.
Keep in mind that successful redaction requires that your files be OCR'd (text recognized). Acrobate Pro DC can do that for you. Your mileage will always vary depending on the scan quality. Some search terms I've found helpful to speed up the review and to cross-review materials filed by other parties include
DOB
D.O.B.
Birthdate
date of birth
born on
SSN
S.S.N.
Soc. Sec. no.
Soc. Sec. #
SS#
Social Security Number
Social Security #
SOC:
DLN
D.L.N.
Driver's license number
D.L.#
Driver's License
Operator's License
OLN:
SID
S.I.D.
SID#
STATE ID
Plan Number
Policy Number
Account Number
Account no.
Account #
Group Number
Medicare
Pay to the
Pay exactly
Payee
TRAFFIC CRASH REPORT
---
Final thoughts
Prudent regular review and redaction always should be motivated by a desire to avoid the expensive and time-consuming headaches of identity theft. No one wants to have their identity stolen or have contributed to that happening to anyone else.
Some folks may not appreciate the risk. Others may not care and a judge needs to remind them. Like this judge did in 2015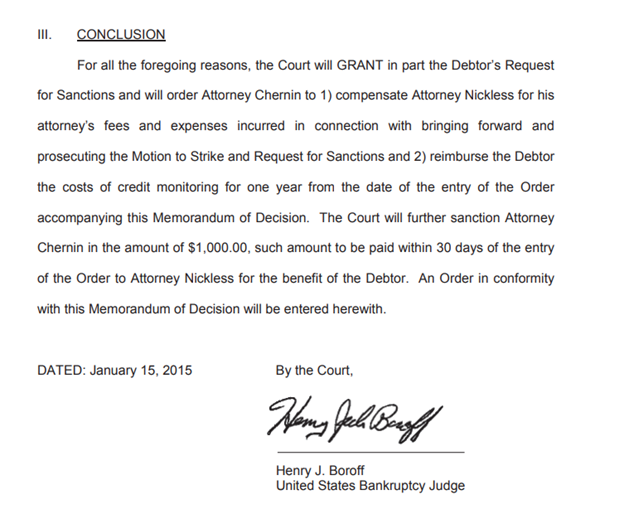 ---
Or like this judge did in 2020—to both sides for each failing to redact.
Fullscreen Mode
---
Here's the thing. It should never have to get that far. And it doesn't have to.
It's up to us to practice data privacy every day. It's a non-negotiable part of our job.
---