In Jimmy Fallon's entertaining bit "Google Translate Songs," The Tonight Show runs the English lyrics of well-known songs through Google Translate. The lyrics are translated into one of 100 languages and then re-translated back to English.
Good-natured guests join The Tonight Show host in singing the now-jumbled English lyrics. On screen, the comedy bits are captioned with the original English lyrics on top and the jumbled (sung) lyrics on the bottom to highlight the translation blunders.
The routine is reliably funny, but Fallon's point is weighty: Google Translate is not reliable when accuracy matters.
Google agrees. Just the other day (May 19, 2020), Google Product Manager Xinxing Gu blogged a user-caution: "Finally, it's very important to note that while we continuously look for ways to improve the quality of our translations, they may not be perfect – so please use your best judgement when reading any content translated via Google Translate."
Google Translate meets SCOTUS Justice Elena Kagan
It's often said that a court speaks through its opinions. Supreme Court Justice Elena Kagan's opinions are known for their razor-sharp clarity, readability, and fresh style. "Alone among the current justices and different from any before, Kagan in her major opinions addresses the American public as her readers, as if being a justice obliges her to say simply and directly why what the Court has decided matters for us."
So how does Google Translate handle a legalese- and jargon-free Kagan opinion?
Borrowing from Jimmy Fallon and tossing Google's warning aside, I uploaded Justice Kagan's unanimous Kelly v. United States opinion to Google Translate, translated it to Spanish, and translated the Spanish-output back to English.
When it involves a United States Supreme Court opinion, a sampling of the Google Translate nonsensicals is no longer funny.
---
Kagan original
Google (Re)Translate
The evidence the jury heard no doubt shows wrongdoing—deception, corruption, abuse of power.
The evidence that the jury

undoubtedly heard

shows irregularities: deception, corruption, abuse of power.
Running between Fort Lee and Manhattan, it is the busiest motor-vehicle bridge in the world.
Running between Fort Lee and Manhattan,

is the bridge of The world's busiest motor vehicle

.
And (save for the four days soon described) his plan has lasted to this day.
And (except for the four days soon described)

your plan has lasted until today

.
A text from the Mayor to Baroni about the locked-in school buses—also unanswered—went around the horn to Wildstein and Kelly.
A

message

from the mayor to Baroni about

the Locked school buses

, also unanswered,

turned the horn on

Wildstein and Kelly.
This Court declined to go along. The fraud statutes, we held in McNally, were "limited in scope to the protection of property rights." Id., at 360.
This court refused to accept. The fraud statutes, which We argued at McNally , they had a "limited scope for the protection of property rights." Id., In 360.
The Government accepts that the lie itself—i.e., that the lane change was part of a traffic study, rather than political payback—could not get the prosecution all the way home. See id., at 43–44.
The Government accepts that the lie itself , that is, that the lane change was part of a traffic study, rather than a political retribution, could not

bring the prosecution to its country

. See id., At 43-44.
This Court rejected the claim. The State's "intangible rights of allocation, exclusion, and control"—its prerogatives over who should get a benefit and who should not—do "not create a property interest." Ibid.

East

court rejected the claim. The "intangible rights of allocation, exclusion and control" of the State – its prerogatives about who should

make a profit and who shouldn't — don't "create ownership interest."

Ibid.
And so his conduct, however deceitful, was not property fraud.
And so, their conduct, while

misleading, is not it was property fraud

.
Or imagine that a city parks commissioner induces his employees into doing gardening work for political contributors.
Or imagine that a city park commissioner induces his employees

to do yard work to political taxpayers

.
Much of governance involves (as it did here) regulatory choice.
Much of governance involves (as it did here)

election regulatory

.
It is so ordered.
It is

very tidy

.
---
Court websites and embedded Google Translate: Not a recommended combination
A bit of context, first. More than 1 in 5 U.S. residents speak a language other than English at home. In America's five largest cities (New York City, Houston, Los Angeles, Chicago, and Phoenix) it's nearly half.
Technology's importance and the role of websites in ensuring equal access to the information provided by courts and in court programs have long been recognized by the American Bar Association (ABA). But millions of LEP users are barred from accessing the online forms, efiling, and self-help information that many court websites only provide in English. While the ABA has encouraged courts to incorporate quality-translated materials, some courts have simply embedded the free Google Translate widget into their websites.
---
Disclaimers: The website includes a translation tool but the court does not guarantee its accuracy, disclaims any responsibility, and users must use it at their own risk
A legalese-heavy "English" disclaimer is often added to court websites that use a Google Translate widget:
The Website of the State of New Jersey Judiciary (Judiciary) may be translated for your convenience using software powered by Google Translate, a free online language translation service that can translate text and web pages into different languages. No automated translation is perfect nor is it intended to replace human translators. The Judiciary does not guarantee the accuracy of the translated text. Some pages may not be accurately translated due to the limitations of the translation software. Text in images, PDF files, Word documents or other document types cannot be translated. The Judiciary accepts no responsibility and disclaims any and all liability for damages that may occur due to outdated or incorrect translations rendered by any third-party services, including Google Translate. The use of any third-party link on the Judiciary website shall be at the user's sole risk. Links to third-party services including Google Translate are provided as a convenience only, and any third-party information and/or content is in no way an affiliation, endorsement, support or approval of the third-party, or the third-party service, by the Judiciary.
The official text of the Judiciary Website is the English language version. Any discrepancies or differences created in translations are not binding and have no legal effect for compliance or enforcement purposes.
Users are reminded that links to translated versions of selected vital information, including documents and forms, can also be found on the Judiciary's English Language website. These materials have been translated by professional translators, and do not require the use of Google Translate, or any other third-party service. Spanish-speaking users can also access a concise Spanish Language version of the Judiciary website.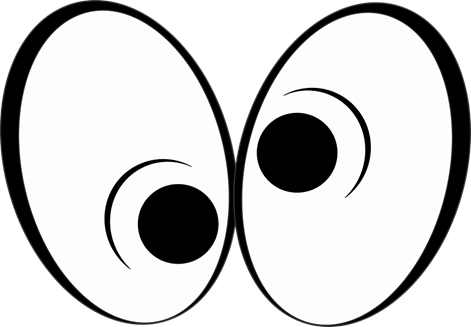 A better way to disclaim
California courts recognize that, sometimes, an automatic machine translation program may be the only available resource. Even so, the Judicial Council's Translation Protocol requires that any disclaimer message be "in the user's primary language, translated by qualified translation providers."
The question remains, though, should a translation widget even be embedded in a court's website if it has to be conditioned on a disclaimer?
What's required in the courtroom should be required on the website
A person who wants to be credentialed as a language interpreter for court hearings must pass demanding test standards. A judge often administers an oath at the hearing or trial's start. In Tennessee, it's:
Do you solemnly swear or affirm that you will interpret accurately, completely and impartially, using your best skill and judgment in accordance with the standards prescribed by law and the Rules of Ethics for Spoken Foreign Language Interpreters in Tennessee Courts; that you will follow all official guidelines established by this court for legal interpreting or translating, and discharge all of the solemn duties and obligations of legal interpretation and translation?

Tennessee Supreme Court Rule 42, §4(B)
Shouldn't the public assume that those high standards are also applied to whatever resources a court uses to translate its online content?
Google does not stand by Google Translate's accuracy, and courts can do better than disclaim away the tool's unreliability. Earned public confidence in the courts and equal meaningful access to justice requires it.
---
An example of a positive step
The Iowa Supreme Court took a partial-step in the right direction showing how this can done.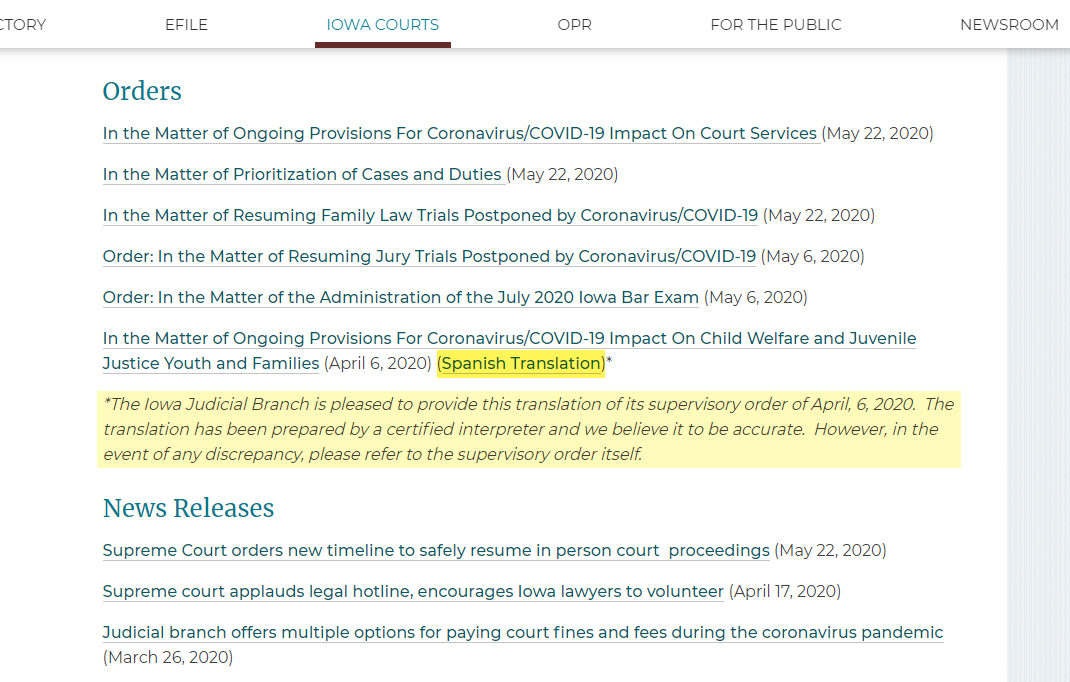 Having the link and explanatory note also appear in Spanish would be more helpful for Spanish readers. Still, credit to this court for making this order available in two languages. I hope it's the start of a trend.