No one is perfect and mistakes happen. This space included.
But typing errors are often avoidable if we strive to use the already-available tools. I need to be reminded of this just as much as the next person.
The reminder to use my word processor's spell check—or at least be sensitive to the squiggly red lines in my Word document—before completing a document really got my attention last night.
Below are some typos I came across while reading an amicus brief filed in a SCOTUS case that was argued today:
defintion (Amicus Br. 9)
unabiguous (Amicus Br. 10)
singlar (Amicus Br. 10)
entirey (Amicus Br. 11)
copyrigtht (Amicus Br. 11)
soverign (Amicus Br. 11, 13)
immuity (Amicus Br. 12)
omited (Amicus Br. 22)
I'm not calling this out to embarrass. This can happen to anyone of us. (Though this seems to be a high number for one filing.)
Let's instead treat it as an invitation to revisit our Word settings.
File –> Options
Proofing tab
Below are the settings that work for me. Note that I check-marked "Check spelling as you type" and "Mark grammar errors as you type."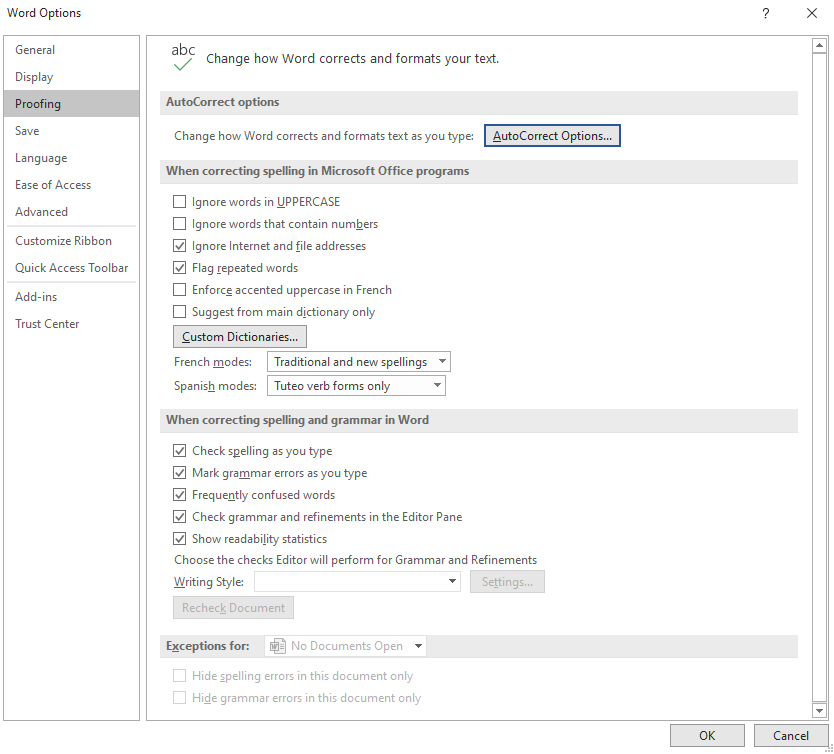 And that is independent of the spell check ("Check Document") you can (and still should) do in Word through its "Review" tab.

We each need reminders. Make sure that you spell check before your material is filed!